Abstract art refers to the artistic expression of a greater extent deviate from or completely abandon the appearance of natural objects. Abstract art is generally considered to be an art that does not describe the natural world. It is subjectively expressed through shapes and colors.
Recommend product: cast iron handcraft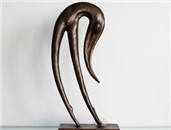 In many cases, the concept of abstract art refers to abstract painting. Of course, in addition to abstract painting, abstract art should include more fields of art, abstract sculpture, abstract installations, music, abstract poetry, abstract photography, architecture, abstract dance and more. Abstraction is a foreign language. The abstraction in art was only the generalization and refinement of the image, which made the image dissolve the specific outline and detail and became highly symbolic.
Haoyu is professional metal handcraft decorations manufacturer. We provide creative metal crafts which can be used at home or giving gifts to others.