Bottle opener is a necessary tool for wine and beer drinking. As people improving their quality of life and their lifestyle, they also place higher demands on the small bottle openers. It has expanded from the only practicality to fun and enjoyment. However, practicality is still the most important and can not be ignored. Therefore, more and more metal bottle openers received people's welcome because of his firmness and plasticity. Only you can not think of, you can not see it.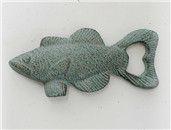 Welcome to visit our website, we currently provide the products: Spoon Shape Bottle Opener, Lock Shape Bottle Opener, Fish Bottle Opener, Wrench Shape Bottle Opener, Key Shape Bottle Opener.
Hao Yu is a metal functional arts and crafts manufacturer and exporter. Our design and production of metal bottle opener is mainly cast iron bottle opener. Welcome contact us for the quote of creative bottle opener and competitive price bottle opener. Best price and service will give you.