Candle holders often used to play the role of decoration. Exquisite candlesticks can add to the taste of home life, spend a small amount of money, buy a variety of styles of candlestick decorated bedroom, the use of its wonderful shape and candlelight beauty and aroma, often more to highlight the owner's taste, or display in Bogut Shelves, well stored, the same is the elegant embellishment of a happy life. So customized cast iron candle holders are more popular.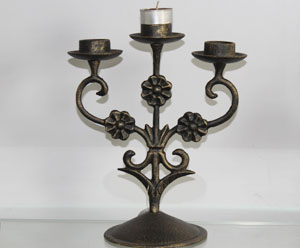 Candlestick styles on the market are more, generally divided into two kinds of European and Chinese, you can choose the right candlestick according to the style of home decoration. Most of the materials on the iron candlestick, iron candlestick easy to clean the dust, not fragile, and with any home improvement style can be a good match, but the iron candlestick color is too single, and now the market is more popular plexiglass candlestick , Will be able to make up for the shortcomings of insufficient color iron candlesticks.
HAOYU is China custom cast iron candle holder manufacturer and supplier. Our candle holders are creative and beautiful, including Factory direct sale handmade metal art antique tall tree candle holders stand and Vintage design metal crafts antique decorative cast iron tabletop candle holders.